Coworking spaces in India have come a long way. They are no longer restricted to tier 1 cities like Chennai, Mumbai or Bengaluru. You can spot them a plenty in cities like Kochi, Coimbatore and Indore too. Another thing that has changed is that they have become more inclusive. You would not just find funded startups using coworking spaces, but also freelancers, independent professionals and larger corporations.
With the pandemic, coworking spaces have had an increase in demand from all categories of users. Individuals are looking out to coworking spaces to take a break from their work from home routine. Employees of companies are not waiting for their employer to provide an office. They are booking coworking spaces themselves to work near their home.
We are also seeing a surge in day pass bookings and meeting space bookings on GoFloaters. We are seeing a spike in demand in the suburbs of tier 1 cities and in tier 2 cities. If you need to work out of a coworking space near home or meet your team to conduct an official meeting, how do you go about it? Not long ago this process used to be a cumbersome and a time taking process. You had to use Google Maps to search for spaces near home. Then call them to check availability and then negotiate rates etc. You had to do this process at least 24 hours prior to your need. Now we have apps that solve this beautifully including yours truly GoFloaters app.
Here we list the top 7 apps that you can use to book meeting spaces and coworking spaces in India. We also talk about what aspects we like about these apps and what could be better with them. Yes, we are pitching the other apps against the GoFloaters app (which we ❤️❤️❤️) and try to be as unbiased as possible. This list is in no particular order but we've got to start it off with GoFloaters!!
We have taken only those apps that have more than 5000 + installs into consideration. The unfortunate part is that there were plenty more players in India before COVID. Some of them fell to the pandemic.
The top 7 apps are :
GoFloaters
GoFloaters was established in 2018. It started as a cafe coworking startup that helped people book informal meeting spaces and work spaces in Cafes without the necessity to order food or beverages. Starting off with 3 cafes and today they are present in 24 cities with over 2000 spaces that can be instantly booked on-demand. From cafes GoFloaters started to offer hot desks and meeting spaces for every type of meeting, size and pricing. The focus of GoFloaters seems to be equally on individual work and collaborative team work. You can get a day-pass starting from Rs 99 / person / day and meeting rooms are available at fares starting Rs 299 / hour.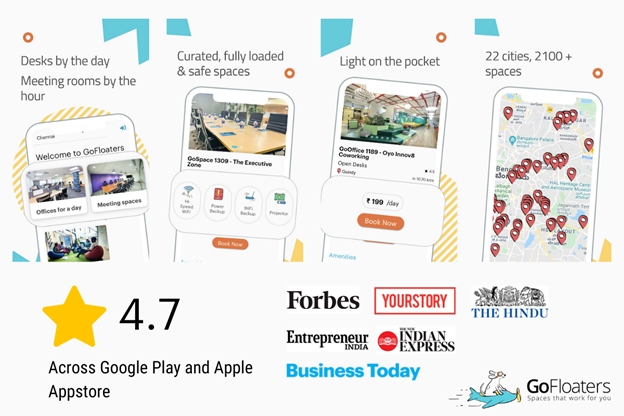 GoFloaters has certainly become India's largest on-demand office space network. Forbes called GoFloaters as the startup that is "reinventing coworking". GoFloaters is present very prominently in tier 1 cities like Bengaluru, Mumbai, Chennai, New Delhi, Noida and Gurgaon and in tier 2 cities like Indore, Lucknow, Kochi and Vijayawada. GoFloaters app is available in Google PlayStore and Apple Appstore with over 15,000 downloads. GoFloaters WorqFlexi has been leveraged by my corporations to provide flexible work from anywhere offices for their employees.
Cities that GoFloaters is present in :
Bangalore
Indore
Chennai
Kochi
Mumbai
Kolkata
New Delhi
Madurai
Noida
Mysore
Gurugram
Trichy
Hyderabad
Visakhapatnam
Pune
Lucknow
Ghaziabad
Vijayawada
Ahmedabad
Thiruvananthapuram
Coimbatore
Faridabad
Pondicherry
Vadodara
Some of the well known customers who use GoFloaters are Decathalon, Nippon Paints, NotionPress, Cisco, Chargebee and CollegeDunia.
MyHQ.in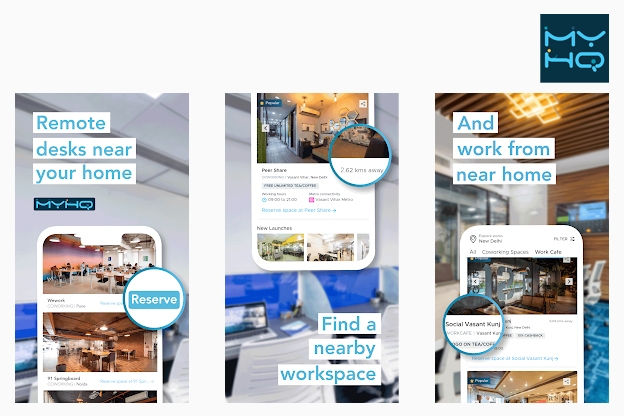 The Gurgaon based startup pioneered the concept of cafe coworking right around the time when GoFloaters was pioneering the concept in the south. MyHQ is now present in over 20 cities including Goa, Jaipur, Chandigarh and Faridabad. They pioneered the visit based flexi-pass model with food credits which has become an industry standard. Apart from providing flexi-passes they also provide fixed seats and plans for enterprises. Some of the companies that use MyHQ are Cars24, Spinny, PayTunes and BharatPe.
They don't have meeting spaces on their platforms. Their offering is more focussed on individual work.
The MyHQ app can be downloaded from Google Play and Apple Appstore. They have a rating of 4.1 on Google Playstore.
Cities that MyHQ is present in :
Bangalore
Indore
Chennai
Kochi
Mumbai
Kolkata
New Delhi
Noida
Gurugram
Hyderabad
Visakhapatnam
Pune
Lucknow
Ghaziabad
Ahmedabad
Coimbatore
Faridabad
Jaipur
Chandigarh
Goa
Awfis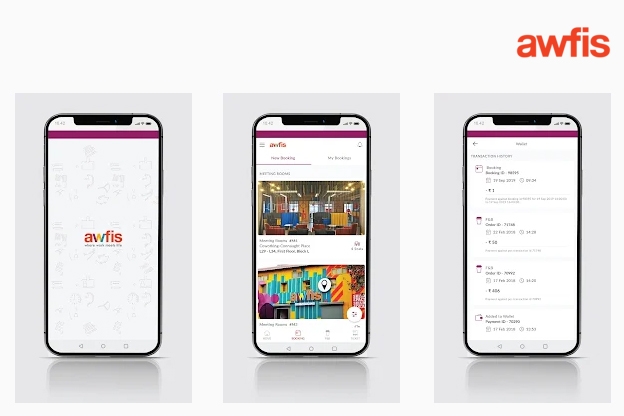 Awfis recently hit a century by opening its 100th location in India. They have grown very rapidly to become one of India's top coworking space operators. Awfis is present in over 12 cities. They are mostly present in tier 1 cities like Delhi, Mumbai, Bengaluru, Chennai and Kolkata. They have plans to expand into tier 2 cities as well.
Using the Awfis app you can book meeting spaces and flexi desks. They have also launched a remote working solution called Awfis now that gives access to all the Awfis locations through one pass. Their pass starts at Rs 6000 for a 10 day access.
Awfis mobile app is available on Google Play and Apple Appstore. They have an average rating of 3.8 and have clocked about 10000 downloads.
Cities that Awfis is present in :
Ahmedabad
Bangalore
Chandigarh
Chennai
Delhi
Gurgaon
Hyderabad
Kolkatta
Mumbai
Noida
Pune
Stylework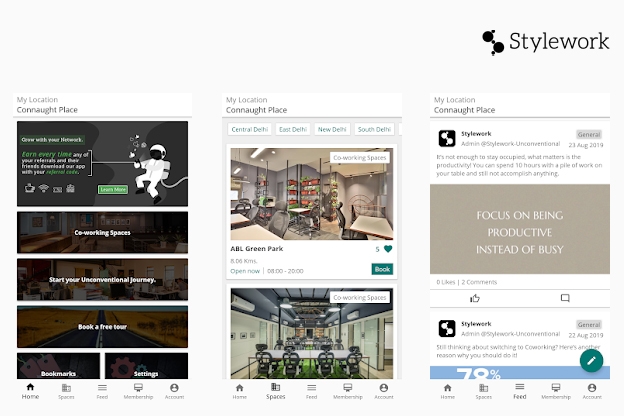 Founded in 2017 by Sparsh Khandelwal, Stylework started out in theNCR region and offers flexible coworking spaces in 800+ locations. They have expanded into other cities during the pandemic. Sometime in March 2021 they also raised a pre-Series A round of INR 4 Crore.
We do observe that Stylework has gravitated towards providing managed and serviced offices to larger clientele. They do still provide on-demand office services in select locations.
They have their app on both of the app stores with a rating of 4.7 on Google Play. They have clocked 5000+ installs of their Android app.
Cities that Stylework is present in :
Delhi
Gurgaon
Hyderabad
Pune
Noida
Bengaluru
OYO Workspaces
OYO operates coworking spaces in India under two brands : OYO Workflo and OYO Innov8. Innov8 is a brand that OYO acquired. OYO Workspaces are operational in 9 cities. OYO Innov8 offers a premium experience whereas OYO Workflo is built for the younger generation.
Cities that OYO Workspaces is present in :
Gurgaon
Hyderabad
Mumbai
Noida
Bengaluru
Pune
Ahmedabad
Chennai
Delhi
OYO offers FlexiPass too if you are interested in a multi-day pass to their facilities.
91Springboard
Founded in 2012, 91Springboard was created by professionals and technocrats whose non-real estate backgrounds helped them build an ecosystem that was more about people rather than spaces. The unique brand they built focused on creating communities and giving members the tools and resources that they needed to thrive. From 1 modest space in New Delhi, they now have a footprint that spreads across 24 hubs in 9 cities with the capacity to cater to 18,000 members.
91Springboard offers managed co-working spaces for entrepreneurs, freelancers, startups, and small businesses in Delhi, Mumbai, Hyderabad, Bengaluru, Goa, Mumbai, Noida and Pune.
91Springboard offers day passes and meeting rooms on most of its locations for you to book through the app. 91Springboard does not have an app! We make an exception to list 91Springboard here. The spaces can be booked from their own website or through partners like GoFloaters.
WeWork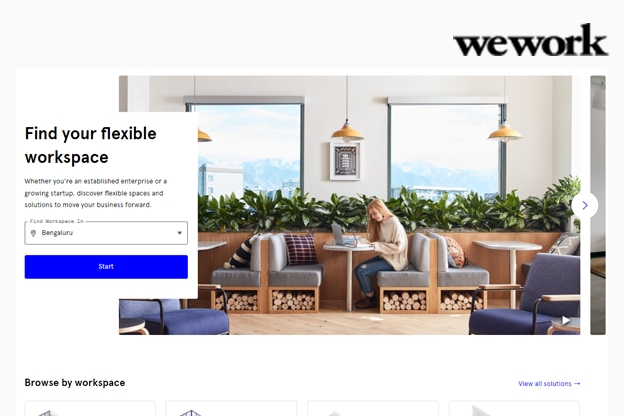 No listing blog post on coworking will be complete without the mention of WeWork. WeWork made its entry into India in 2017 with its partnership with Embassy Group. WeWork's presence in India has steadily grown since then. At present, WeWork operates 5 million square feet area at 36 locations comprising 64,000 seating capacity. It currently has a presence in six major cities including Delhi-NCR, Mumbai and Bengaluru. Their revenue in 2021 rose by 33%.
WeWork is offering day passes in all of these 6 cities. They are also offering conference rooms on hire on an hourly basis.
Cities that WeWork is present in :
Mumbai
Gurgaon
Hyderabad
Pune
Noida
Bengaluru
Surprisingly WeWork's app on the Google PlayStore has only a 2.9 rating. Looks like their tech team needs to roll up their sleeves.
---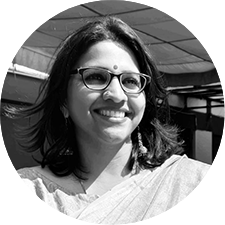 I hope this blog was informative
If you want to get in touch with us for your flexible space bookings,
👉🏽 click here